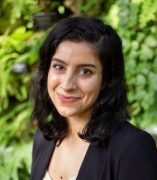 Sophia Hamilton
Director of DRC
Disability Resource Center
Contact
Building & Room:
Student Services Building
Office Phone:
Email:
About
Sophia has been the Disability Resource Center Director at the University of Illinois at Chicago since December of 2018. She believes strongly that universally accessible education is fundamental to a socially just society, and is honored to be of service to students at UIC. Prior to joining the UIC community, Sophia served as the Disability Access Center Director at Kennedy-King College, where she managed student accommodations, trained faculty on accessibility and Universal Design, and served as advisor for the Access Ability Alliance, KKC's campus disability pride club.
Fun facts: Sophia is from Tacoma, Washington. She loves gardening, biking, reading, and performance art! She enjoys spending time buddy biking and hanging out in the art studio at Envision Unlimited Westtown and participating in community-driven zoning as a volunteer for Somos Logan Square.