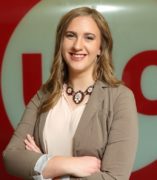 Kelly Gerhardt
Disability Services Specialist
Caseload: Students With Last Names K-N
Pronouns: She/Her/Hers
Contact
Office Phone:
Email:
About
Kelly graduated from the University of Illinois at Chicago in December 2017 with a Bachelor of Arts in Psychology, taking interest in topics of Disability Studies and Sociology as well. In October 2018, Kelly joined the DRC team as the front desk associate and in March 2019, transitioned into the role of Test Specialist. As Test Specialist, Kelly assisted students and faculty with implementation of approved testing accommodations and administered course quizzes and exams. Kelly will be officially transitioning into the role of Disability Services Specialist at the start of the Spring 2022 semester and is excited to help support our students identify and eliminate any barriers in access they may be experiencing while here at UIC.
Outside of work, she has experience in mentoring high school students from under resourced communities that are navigating their way to and through their college years through the Chicago based organization, Chicago Scholars. Kelly is also finishing her Masters of Education in Urban Higher Education here at UIC, where she focuses on the intersectional identities of race, gender, disability, and socioeconomic status of college students and the way student identities should impact service in student support roles at an urban university.
In her free time, Kelly enjoys rummaging through thrift stores, doing DIY projects for around the house, hitting the golfing range, seeing live music, spending time with friends and family, going to museums, and exploring all of the best restaurants and local shops around the suburbs and Chicago!